Anything to PDF
Send an email and get it converted to PDF back (or any other format).
We also support sharing via Google Drive, Dropbox, Amazon S3, and more!
Do you want a sneak peek? Sure. Try it for free, no registration needed.
3,000+ Documents Every Day
"Love it! We send weekly invoices by email, but some customers require a PDF copy of them. Sounded like a major investment to build this feature, until I've found Tapdone. We just bcc to it, and it sends back converted PDF back."
Try It For Free
Send an email to whoever has to receive it (or just yourself) and add cc or bcc to pdf@convert.tapdone.com. Your email will be converted to PDF and sent back to the original recipient.
"I have a lot of subscriptions to newsletters and I want to read them offline. Preparing myself for a trip was pretty hectic. Now I just send by email and get converted PDFs back."
Why?
It is as easy as it gets. Just add email bcc (blind carbon copy) to Tapdone's email, and have all recipients get a copy of the original email as a PDF file attached.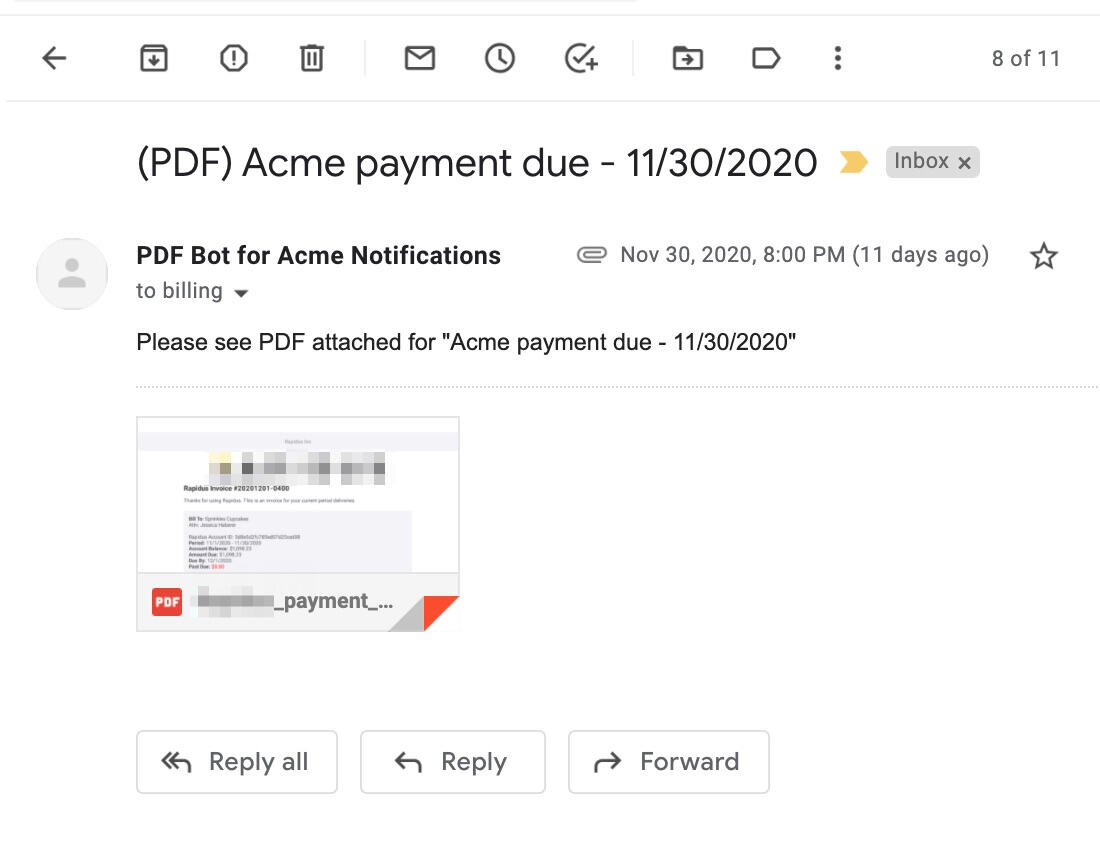 Present your professional information in PDF because it's universal, versatile, and accessible

Add PDF format to any of your emails by just copying it to Tapdone

Enable it in 5 minutes. No code required.

We generate PDFs that look identical no matter the platform or device and can be shared across multiple recipients

Care about security and send out sensitive data or statistics? Password-protected PDFs.

Include personalized promotional information or content-specific advertisement
Over 90,000 emails every month converted to PDF instantaneously
We generate PDF invoices and statements for major accounting and payroll companies, and prominent FinTech startups
PDFs are not simple. Generation, storage, and management of heavyweight documents require solid technology, scalable infrastructure, and reliable services.
Get In Touch
Contact sales for demo and pricing
---
Designed and created by © OPA Group, Inc. All rights reserved.